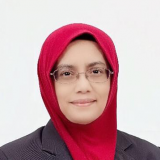 Assalammualaikum wbt and welcome to Graduate School of Muamalat,
Faculty Economics and Muamalat, USIM.
Very warm greetings to everyone.
I would like to express my greatest appreciation and deepest gratitude to all who visit GS-Muamalat official portal. As the first gateway into this school, we have placed our best efforts to ensure that the information we provide on this portal continues to be relevant and current. We have also given it a fresh new look so that it is user-friendly and easily accessible.
GS-Muamalat is committed to promote the advancement of society by producing competent trustworthy graduates with universal outlook, strong entrepreneurial spirit and critical thinking whilst upholding all human values based on Syariah (Islamic Law). With this endeavor, I would like to inform two of our unique programme namely the Masters and Industrial PhD. The resurgence of interest in the field of Halal business transaction, Islamic banking and finance which is integrated with Islamic values (Muamalat) amongst Muslims and non-Muslims in and outside Malaysia, has led to the development of this graduate Masters programme. The recent collaboration with Islamic Banking & Finance Institute Malaysia (IBFIM) which itself offers professional certificate in Islamic and Banking has led to the development of unique Master's programme in Malaysia. GS-Muamalat graduates will obtain their Master degree and in addition will receive a professional certificate recognized by the banking industry.
GS-Muamalat have started a unique Industrial PhD program where candidate are trained to be consultants and effective decision makers. They have to solve management problems experienced by their respective organisation (FMOMS) in the course of the study at the end of which they reports will be collated to be as the PhD thesis.
Please rest assured that all programmes offered by GS-Muamalat are accredited by the Malaysian Qualifications Agency (MQA) and approved by the Ministry of Higher Education. Please do consider of becoming part of the Graduate School of Muamalat's community by applying today. Our committed administrators and academia are delighted to answer any queries you may have and we look forward to welcome you to our campus in USIM, Nilai.
Thank you.
ASSOCIATE PROF. DR KHAIRUL AKMALIAH ADHAM
Deputy Dean Graduate School of Muamalat
Faculty of Economics and Muamalat
Universiti Sains Islam Malaysia